Here are four poems for Armistice Day, by Wilfrid Gibson. Best known  for his  poems of the First World War, he continued to write about war and its aftermath until the Second World War. For more of his war poems, see Suspense and War Poems
Bacchanal (November, 1918)
 Into the twilight of Trafalgar Square
They pour from every quarter, banging drums
And tootling penny trumpets – to a blare
Of tin mouth organs, while a sailor strums
A solitary banjo, lads and girls
Locked in embraces in a wild dishevel
Of flags and streaming hair, with curdling skirls
Surge in a frenzied reeling panic revel.
Lads who so long have stared death in the face,
Girls who so long have tended death's machines,
Released from the numb terror shriek and prance –
And, watching them, I see the outrageous dance,
The frantic torches and the tambourines
Tumultuous on the midnight hills of Thrace.
From 'Neighbours', 1920.
"The Glorious Dead"
He talked about "the glorious dead",
And how we always should remember them;
And then she turned on him and said –
If you mean Willie, Dick and Jem,
The living lads they took from me
To blow to pieces with artillery –
Much good to them 'twill do
To be remembered by the likes of you;
And as for "glorious memory,"
What's that, think you, to me
When out of sleep I start up in my bed
Remembering my little lads are dead?
From 'Aftermath', 1930
The Kill
He saw a figure crouching in the crags,
And fired; then charged with bayonet fixed to find,
That writhing body, slumped behind
A boulder on the rocky shelf,
Was his own self.
From 'The Outpost', 1944.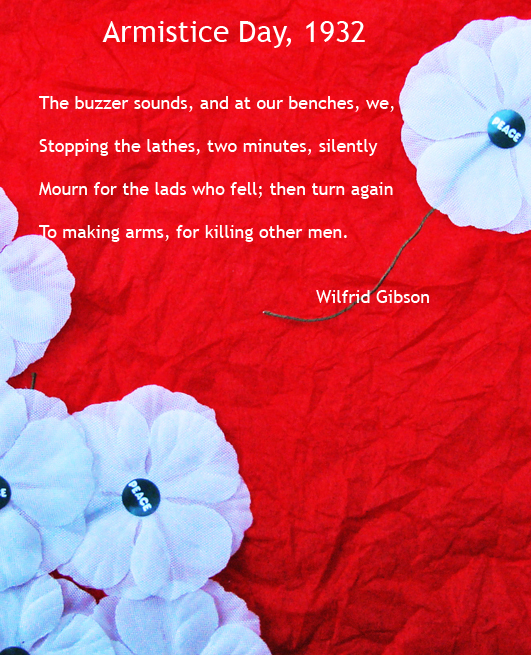 Image by Judy Greenway
All poems © trustees of the Wilfrid Gibson estate.